Syllabus: Prelims GS Paper I : Current Events of National and International Importance.
Mains GS Paper III : Bilateral, Regional and Global Groupings and Agreements involving India and/or affecting India's interests; Effect of Policies and Politics of Developed and Developing Countries on India's interests
Japan and India are Asia's two major democracies. They are natural partners, with an economic complementarity that is potentially quite high. Being burdened with a mature economy, an aging population, and a low birthrate, Japan is in need of a growth scenario. In developing such a scenario, it will be important for Japan to expand its relationship with India, which is continuing to grow rapidly. However, as highlighted by sluggish bilateral trade and foreign direct investments in India driven by expectations, this economic relationship falls far short of its potential. What is most noteworthy at the moment is Japan's investment in Indian infrastructure through official development assistance. India has high expectations of Japan as a development partner.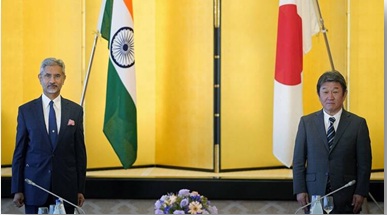 Exchange between Japan and India is said to have begun in the 6th century when Buddhism was introduced to Japan. Indian culture, filtered through Buddhism, has had a great impact on Japanese culture, and this is the source of the Japanese people's sense of closeness to India.After World War II, in 1949, Indian Prime Minister Jawaharlal Nehru donated an Indian elephant to the Ueno Zoo in Tokyo. This brought a ray of light into the lives of the Japanese people who still had not recovered from defeat in the war. Japan and India signed a peace treaty and established diplomatic relations on 28th April, 1952. This treaty was one of the first peace treaties Japan signed after World War II.Ever since the establishment of diplomatic relations, the two countries have enjoyed cordial relations. In the post World War II period, India's iron ore helped a great deal Japan's recovery from the devastation. Following Japanese Prime Minister NobusukeKishi's visit to India in 1957, Japan started providing yen loans to India in 1958, as the first yen loan aid extended by Japanese Government.
Recent relations:
Prime Minister Yoshiro Mori's visit to India in August 2000 provided the momentum to strengthen the Japan-India relationship. Mr. Mori and Prime Minister Atal Bihari Vajpayee decided the establishment of "Global Partnership between Japan and India". Since Prime Minister Junichiro Koizumi's visit to India in April 2005, Japan-India annual summit meetings have been held in respective capitals. When Prime Minister Manmohan Singh visited Japan in December 2006, Japan-India relationship was elevated to the "Global and Strategic Partnership". In September 2014, Prime Minister Narendra Modi paid an official visit to Japan and had a summit meeting with Prime Minister Shinzo Abe. They concurred to upgrade the bilateral relationship to "Special Strategic and Global Partnership." In December 2015, Prime Minister Abe paid an official visit to India and had a summit meeting with Prime Minister Narendra Modi. The two Prime Ministers resolved to transform the Japan-India Special Strategic and Global Partnership into a deep, broad-based and action-oriented partnership, which reflects a broad convergence of their long-term political, economic and strategic goals. They announced "Japan and India Vision 2025 Special Strategic and Global Partnership Working Together for Peace and Prosperity of the Indo-Pacific Region and the World" a joint statement that would serve as a guide post for the "new era in Japan-India relations."In November 2016, Prime Minister Modi paid an official visit to Japan and had a summit meeting with Prime Minister Abe. Prime Minister Abe stated that this summit meeting was a magnificent meeting that substantially advanced the "new era in Japan-India relations," and he hoped the two countries would lead the prosperity and stability of the Indo-Pacific region as a result of coordinating the vision of a free and open Indo-Pacific and the "Act East" policy. Most recently, in the Japan-India Vision Statement issued during Prime Minister Modi's visit to Japan in October 2018, two leaders reiterated their unwavering commitment to working together towards a free and open Indo-Pacific.
Cooperation in Security Fields:
During Prime Minister Singh's visit to Japan in October 2008, two leaders issued "the Joint Declaration on Security Cooperation between Japan and India". There are also various frameworks of security and defense dialogue between Japan and India including "2+2" meeting, annual Defense Ministerial Dialogue and Coast Guard-to-Coast Guard dialogue. At recent summit meetings, two leaders reaffirmed their desire to further deepen bilateral security and defense cooperation and institute Foreign and Defence Ministerial Meeting (2+2), and welcomed the commencement of negotiations on the Acquisition and Cross-Servicing Agreement (ACSA). In November 2019, the first Foreign and Defence Ministerial Meeting was held in New Delhi.
Economic Relations:
During Prime Minister Modi's visit to Japan in September 2014, two leaders decided to set a common goal of doubling Japan's direct investment and the number of Japanese companies in India by 2019, in order to build a win-win relationship through synergies between Modinomics and Abenomics. Prime Minister Abe intended to make an effort to realize 3.5 trillion yen of public and private investment and financing, including Official Development Assistance (ODA), to India over the coming five years. Japan expects India for improving the business environment, including the easing of regulations and the stabilization of the system. India established the "Japan Plus" office in the Ministry of Commerce and Industry in October2014 as a "one-stop" location for resolving problems faced by Japanese companies. Japan and India shared the view to set up for 11 candidates of Japanese industrial townships around DMIC and CBIC areas in April 2015. Prime Minister Abe requested India's early decision on introducing special incentive packages in Japanese industrial townships in December 2015 and November 2016. India decided to introduce the Shinkansen system in December 2015, when Prime Minister Abe visited India. The Japan's Shinkansen system is in a highest class of High-Speed Railway systems around the world in terms of its safety and accuracy. Japan and India confirmed that the General Consultant would start its work in December 2016, the construction work would begin in 2018, and the railway's operation would commence in 2023. India has been the largest recipient of Japanese ODA Loan for the past decades. Delhi Metro is one of the most successful examples of Japanese cooperation through the utilization of ODA. Japan will cooperate on supporting strategic connectivity linking South Asia to Southeast Asia through the synergy between ''Act East'' policy and ''Partnership for Quality Infrastructure.''
In terms of human resource development in the manufacturing sector in India, Japan announced its cooperation of training 30,000 Indian people over next 10 years in the Japan-India Institute for Manufacturing (JIM), providing Japanese style manufacturing skills and practices, in an effort to enhance India's manufacturing industry base and contribute to "Make in India" and "Skill India" Initiatives. JIM and the Japanese Endowed Courses (JEC) in engineering colleges will be designated by Japanese companies in India, and this is a good example of cooperation between the public and private sectors. In summer 2017, the first four JIMs started in the States of Gujarat, Karnataka, Rajasthan and Tamil Nadu, and the first JEC was established in the State of Andhra Pradesh. Since then, more four JIMs and one JEC have started. Those institutes are also expected to give more Indian students the ambition to study the Japanese language.
India, Japan finalize landmark cyber-security pact for co-operation on 5G, AI and critical information infrastructure:
Definition of Cyber Security:
Cyber security refers to the body of technologies, processes, and practices designed to protect networks, devices, programs, and data from attack, damage, or unauthorized access. Cyber security may also be referred to as information technology security.
The Importance of Cyber Security:
Cyber security is important because government, military, corporate, financial, and medical organizations collect, process, and store unprecedented amounts of data on computers and other devices. A significant portion of that data can be sensitive information, whether that be intellectual property, financial data, personal information, or other types of data for which unauthorized access or exposure could have negative consequences. Organizations transmit sensitive data across networks and to other devices in the course of doing businesses, and cyber security describes the discipline dedicated to protecting that information and the systems used to process or store it. As the volume and sophistication of cyber attacks grow, companies and organizations, especially those that are tasked with safeguarding information relating to national security, health, or financial records, need to take steps to protect their sensitive business and personnel information. As early as March 2013, the nation's top intelligence officials cautioned that cyber attacks and digital spying are the top threat to national security, eclipsing even terrorism.
Managing Cyber Security:
The National Cyber Security Alliance, through SafeOnline.org, recommends a top-down approach to cyber security in which corporate management leads the charge in prioritizing cyber security management across all business practices. NCSA advises that companies must be prepared to "respond to the inevitable cyber incident, restore normal operations, and ensure that company assets and the company's reputation are protected." NCSA's guidelines for conducting cyber risk assessments focus on three key areas: identifying your organization's "crown jewels," or your most valuable information requiring protection; identifying the threats and risks facing that information; and outlining the damage your organization would incur should that data be lost or wrongfully exposed. Cyber risk assessments should also consider any regulations that impact the way your company collects, stores, and secures data, such as PCI-DSS, HIPAA, SOX, FISMA, and others. Following a cyber risk assessment, develop and implement a plan to mitigate cyber risk, protect the "crown jewels" outlined in your assessment, and effectively detect and respond to security incidents. This plan should encompass both the processes and technologies required to build a mature cyber security program. An ever-evolving field, cyber security best practices must evolve to accommodate the increasingly sophisticated attacks carried out by attackers. Combining sound cyber security measures with an educated and security-minded employee base provides the best defense against cyber criminals attempting to gain access to your company's sensitive data. While it may seem like a daunting task, start small and focus on your most sensitive data, scaling your efforts as your cyber program matures.
Indo Japan cyber-security pact:
India and Japan have finalised a landmark cyber-security agreement providing for enhancing cooperation on 5G technology, artificial intelligence and critical information infrastructure as the two strategic partners vowed to further broad base their joint efforts in ensuring a free and open Indo-Pacific.After a meeting between foreign ministers of the two countries in Tokyo on Wednesday, the Ministry of External Affairs (MEA) said the two sides have firmed up the pact which will promote cooperation in 5G technology, Internet of Things (IoT), Artificial Intelligence (AI) and key areas of cyberspace among others.The firming up of the deal comes in the midst of growing concerns in India over cyber attacks from China, particularly after India banned over 100 mobile apps with Chinese links following the bitter border standoff between the two countries in eastern Ladakh.
Separately, a meeting of the Union Cabinet chaired by Prime Minister Narendra Modi approved signing of the agreement with Japan.Following talks between External Affairs Minister S Jaishankar and his Japanese counterpart ToshimitsuMotegi, it was also announced that Japan agreed to be the lead partner in the connectivity pillar of the Indo-Pacific Oceans' Initiative (IPOI).The IPOI is an India-backed framework aimed at making meaningful efforts to create a safe and secure maritime domain in the Indo-Pacific, a region where China has been expanding its military assertiveness triggering global concerns.Jaishankar, in a tweet, said further expansion of India-Japan collaboration in third countries with focus on development projects also figured in the talks."Recognising the increasing role being played by digital technologies, the two ministers highlighted the need for robust and resilient digital and cyber systems and in this context, welcomed the finalisation of the text of the cybersecurity agreement," the MEA said.
The cooperation between India and Japan on 5G technology comes in the backdrop of growing reluctance by a significant number of countries globally to allow Chinese telecommunications giant Huawei to roll out 5G services in their territories.The US has already banned Huawei over concerns of security, and Washington has been pressuring other countries to restrict the operations of the Chinese telecom major.The 5G is the next-generation cellular technology with download speeds stated to be 10 to 100 times faster than the current 4G LTE networks.A statement issued after the Cabinet meeting said the cyber-security pact will also provide for sharing strategies and best practices to promote the integrity of the supply chain of information and communication technology (ICT) products.It was stated that the said pact will enhance cooperation in the area of cyberspace and emerging technologies and provide for protection of critical infrastructure and sharing of information on cyber security threats and malicious cyber activities as well as on best practices to counter them.In course of the 13th India-Japan foreign ministers' strategic dialogue, Jaishankar and Motegi deliberated on a broad range of areas including maritime security, trade and investment, manufacturing, connectivity and infrastructure and reform of the United Nations, the MEA said.However, it is learned that one of the key priority areas was Indo-Pacific.The two ministers also concurred that the Indo-Pacific has acquired greater salience in recent times and underscored the need for India and Japan to work together for the benefit of the region."Reaffirming the similarities in their respective Indo-Pacific visions, that are based on rule of law and respect for sovereignty and territorial integrity, the Japanese side agreed to be the lead partner in the connectivity pillar of the Indo-Pacific Oceans' Initiative and jointly take both countries' respective visions for the Indo-Pacific forward," the MEA said.At the East Asia Summit in Bangkok last year, Modi proposed setting up of the Indo-Pacific Ocean's initiative to conserve and sustainably use the maritime domain and to make meaningful efforts to create a safe and secure maritime domain.
In the talks, the two ministers exchanged views on regional and global issues of mutual interest and agreed that the strong and enduring partnership between the two countries will play a pivotal role in overcoming challenges posed by the COVID-19, the MEA said.The Japanese foreign ministry, in a statement, said the two ministers reaffirmed the importance of implementing Japan-India cooperation in third countries such as ASEAN and Southwest Asian countries and making steady progress on the high-speed rail project.It also referred to the signing of exchanges of notes in late August for Japan's COVID-19 measures for India, namely a 50 billion yen emergency assistance loan and a 1 billion yen grant aid for the provision of medical equipment.The statement said Motegi expressed his hope that the assistance will contribute to developing the health and medical systems of India, including the COVID-19 response.The Japanese foreign ministry said Jaishankar and Motegi exchanged views on cooperation for realising a "free and open Indo-Pacific" and affirmed their intention to continue boosting the bilateral cooperation, including the IPOI promoted by India."The ministers exchanged opinions regarding the issue of North Korea. Minister Motegi asked for understanding and cooperation towards the early resolution of the abductions issue and Minister Jaishankar expressed his support," it said.It said the two ministers affirmed that the two countries will cooperate toward realising UN Security Council reforms as early as possible.
---
Measuring the strength:
Pre Q. Japan provided 50 billion yen emergency assistance loan and a 1 billion yen grant aid for ?
(a) Medical equipment
(b) Manufacturing
(c) Maritime security
(d) Trade and investment
Mains Q. Next World War will be fought through information technology; Indo Japan cyber-security deal comes in the midst of growing concerns in India over cyber attacks from China. Discuss briefly outlining the important points of the deal.